The flyer shown opposite was used for the world premier of Matthew Bourne's 'The Lord Of The Flies' at the Theatre Royal in Glasgow. We supplied all of the cast with their uniforms.
Whatever your requirements whether it be theatre, television or film, do not hesitate to contact us. Our direct email address is info@albertprendergast.com and our direct dial telephone number is 01298 211135. We look forward to hearing from you.
Here is a small selection of the productions that we have been involved with;
Save The Sorceror's Apprentice
In December 2021 'Albert Prendergast' supplied maroon gymslips for the Northern Theatre production of 'The Sorceror's Apprentice'.
Grab your magical marching mop and join us in this enchanting new production.
Hatty Rabbit was just a normal girl from a normal family (well, as normal as families get). That is until a job offer arrives for Hatty, in the form of a letter slid underneath the door on a cold winter's night, she is to become the Sorcerer's Apprentice…
A truly magical treat for the whole family that's not to be missed this Christmas.
Toast
In August 2019 'Albert Prendergast' supplied shorts & socks for the national touring production of Nigel Slater's 'Toast'.
Toast vividly recreates Nigel Slater's childhood through the tastes and smells he shares with his mother, culminating in the young Nigel's escape to London. From making the perfect sherry trifle, through the playground politics of sweets, the rigid rules of restaurant dining, and a domestic war over cakes, this is a moving and evocative tale of love, loss and…toast.
Cats
In July 2019 'Albert Prendergast' supplied gymslips, shorts, blouses, ties, caps and other uniform for the Killworth House production of 'Cats'.
We are 'over the moon' to announce that Kilworth HouseTheatre will be presenting an all new and exciting production of 'CATS'
The magnificent musical score composed by the legendary Andrew Lloyd Webber, based on T.S. Eliot's Old Possum's Book of Practical Cats is a ground-breaking musical that comes together in a sparkling fusion of music, dance and verse and includes the poignant hit song 'Memory'. Alive with our favourite feline characters including Rum Tum Tugger, Mr Mistoffelees, Macavity, Old Deuteromy and Grizabella to name but a few. 'CATS' is quite simply a phenomenon.
A magical musical like no other with breath-taking choreography, set and costumes 'CATS' at Kilworth' is going to be 'the cats' whiskers' of shows set in the unique mystical glade that only Kilworth can offer.
Malory Towers
In May 2019 'Albert Prendergast' supplied gymslips, sashes, blouses, ties and other uniform accessories for the 'Wise Children' production of 'Malory Towers'.
Nostalgic, naughty and perfect for now, Malory Towers is the original 'Girl Power' story. Join Wise Children for high jinks, high drama and high spirits, all set to sensational live music and breathtaking animation.
Darrell Rivers is starting school with an eager mind and fierce heart. Unfortunately she also has a quick temper! Can she learn to tolerate the infuriating Gwendoline Lacey, or value the kind hearted Sally Hope? Can she save the school play and rescue terrified Mary Lou from the grip of a raging storm? If she can do these things anywhere, she will do them at Malory Towers!
Adapted and directed by Emma Rice (Romantics Anonymous, Tristan & Yseult, The Flying Lovers of Vitebsk and Brief Encounter), this is a show for girls, boys and all us grown-up children who still dream of midnight feasts and Cornish clifftops.
The Twilight Zone
In March 2019 'Albert Prendergast' supplied long trousers, shirts & a gymslip for the 'Ambassadors Theatre', production of 'The Twilight Zone'.
You are about to enter another dimension, a dimension not only of sight and sound but of mind. A journey into a wondrous land of imagination. Next stop, the Twilight Zone…
Adapted by Anne Washburn (Mr Burns) and directed by Olivier Award-winner Richard Jones, this piercingly smart (Time Out) production of the acclaimed CBS Television series lands at the Ambassadors Theatre, fresh from a rapturously received, sell-out run at the Almeida Theatre.
Matilda
In January 2019 'Albert Prendergast' supplied short trousers, ties & polo shirts for the 'Royal Manitoba Theatre Canada', production of 'Matilda'.
Matilda's parents don't understand her. At all. Her school life is no picnic under the iron rule of the frightful Miss Trunchbull. Armed with a vivid imagination and razor-sharp intellect, this delightfully defiant little girl resolves to change her destiny. Winner of more than 85 international awards, including 16 for Best Musical, Roald Dahl's cheeky salute to the power of the underdog has won over seven million people of all ages. Featuring irresistible music, whipsmart lyrics and the wild genius of Roald Dahl, Matilda's grand adventure awaits!
White Teeth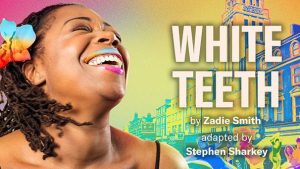 In November 2018 'Albert Prendergast' supplied shorts and polo shirts for the world premiere production of 'White Teeth' at the Kiln Theatre in London.
Zadie Smith's breakthrough novel is adapted for stage by acclaimed playwright Stephen Sharkey and directed by Artistic Director Indhu Rubasingham in a major world premiere. An epic comedy with music and dance, this theatrical rollercoaster takes us on a fast-paced journey through history, different cultures and chance encounters.
Pack Of Lies
In August 2018 'Albert Prendergast' supplied a coat, gloves, blazer and tie for a revival production of 'Pack Of Lies'. This production was staged by the Menier Chocolate Factory in London.
The Jacksons are a nice middle aged English couple. Their best friends are the Krogers, their Canadian neighbours. All is blissful in their world until a detective from Scotland Yard asks to use their house as an observation station to foil a Soviet spy ring operating in the area. They are really put to the test when the detective asks them to help set a trap. Should they betray their friends…
Or their country?

The Prime Of Miss Jean Brodie
In May 2018 'Albert Prendergast' supplied grey gymslips, blazers & ties for a production of 'The Prime of Miss Jean Brodie. This production was staged by the Donmar Theatre in Covent Garden in London.
La Boheme (Opera Australia)
In December 2017 'Albert Prendergast' supplied traditional sandals, ties, jerseys and shirts for this production of 'La Boheme'. The production was staged by Opera Australia and it was peformed on The Sydney Harbour bridge.

40 Years On (Chichester Festival Theatre)
In March 2017 'Albert Prendergast' supplied 61 complete school uniforms to this production of '40 Years On'. The production was staged by Chichester Festival Theatre and starred Richard Wilson in the lead role.
Nothing
If someone you knew declared that life had no meaning, how would you convince them it does? That's the question a group of teenagers ask themselves in Nothing, a compelling new youth opera by David Bruce that premiered at Glyndebourne in February 2016.
'Albert Prendergast' provided 50 bespoke jerseys and skirts for this prestigious production at Glyndebourne.
The picture was taken by Robert Workman.

The Amazing Story of Adolphus Tips
In July 2016 'Albert Prendergast' provided knee high socks and grey school caps to this London production of '946: The Amazing Story of Adolphus Tips'
.
I Can't Sing
35 complete boys school uniforms in grey and maroon.
Supplied to the London Palladium for their production of a new comedy musical by Harry Hill & Steve Brown. Based on the 'X Factor' televison show and entitled 'I Can't Sing'.

The Butterfly Lion
Grey wool worsted shorts trousers with button fly, black wool flannel blazer, maroon cap, plain grey knee length socks, white shirts & various school ties.
All of the above was supplied to the Mercury Theatre in Colchester for their production of 'The Butterfly Lion'.
Matthew Bourne's Lord Of The Flies
35 complete school uniforms for the world premier production of Matthew Bourne's 'The Lord Of The Flies' at the Theatre Royal in Glasgow.

Matthew Bourne's Lord Of The Flies Touring Production
In early 2014 I supplied a further 30 uniforms for the touring production of Matthew Bourne's 'Lord Of The Flies'.
40 Years On
'Albert Prendergast' supplied twelve green wool flannel blazers (two with yellow grossgrain braiding) for this production.

The Ashes
'Albert Prendergast' supplied two green wool flannel blazers for this production.
Swallows & Amazons
'Albert Prendergast' supplied underwear and socks for this production of Swallows & Amazons.

Tory Boyz
'Albert Prendergast' has supplied grey wool flannel caps and grey skirts for the National Youth Theatre production of Tory Boyz.
Henry V
In this gripping new Henry V, a talented young cast tell the story of a king who unites his 'band of brothers' and a nation with his eloquent words and ideas, his triumphs and humanity. When the battle is won, this production will leave you feeling uplifted and exhilarated with the belief that the impossible is possible.
I supplied several rugby jerseys for use in this production. The production finished its run with a month long residency at the Sydney Opera House in late 2014.
Friend Or Foe
A thrilling tale of extraordinary friendship from master storyteller Michael Morpurgo (author of War Horse and The Butterfly Lion).
I supplied; gymslips, traditional button front shorts, wool flannel blazers, knee length socks and venetian stripe caps for this brand new stage production by the 'Mercury Theatre Company' in Colchester.
Made In Dagenham
Inspired by a true story and based on the hit movie, Made in Dagenham is the uplifting new West End musical comedy about friendship, love and the importance of fighting for what is right.
I have supplied several pairs of grey wool worsted shorts and knee length grey socks for this production at the Adelphi Theatre in London.